At Carroll Dentistry, we understand that the foundation for a beautiful smile is a healthy mouth. We encourage all of our patients to develop diligent oral hygiene habits to prevent infection and other oral health problems. In some instances, however, further care is needed to preserve a patient's oral health. Whether you require a small filling or more involved treatment such as periodontal care, we can provide you with the treatment you need for sustained oral health. Our practice offers the following dental services: dental implants, cosmetic dentistry, dental veneers, teeth whitening, extractions, Invisalign (invisible braces), cosmetic bonding, advanced prosthodontics, InMan Orthodontic Aligners, and general dentistry.
We want you to have optimal dental health by helping you prevent dental problems. A preventive program is a cooperative effort by the patient, dentist, and dental staff to preserve the natural dentition and supporting structures by preventing the onset, progress, and recurrence of dental diseases and conditions. Prevention helps avoid serious and costly dental problems and is the key to having a healthy, confident, beautiful smile.
Having a healthy, bright, beautiful smile enhances your appearance and allows you to smile with confidence. Thanks to the advances in modern cosmetic dentistry, you are able to improve your teeth and smile with quick, painless and surprisingly affordable treatments.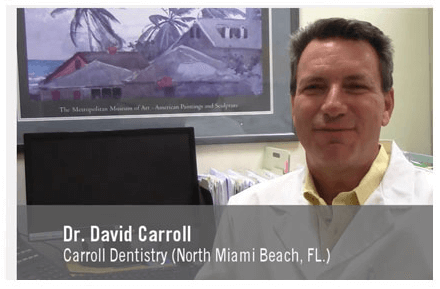 Dr. Carroll talks about his practice philosophy and why we became a dentist. He discusses the advanced services he offers his patients from advanced prosthodontics, to adult orthodontics and conventional dentistry like teeth whitening, dental bonding, the veneers, and implant dentistry.
Dental Implants
Smile Design
Porcelain Veneers
Crowns
Bonding
Adult Orthodontics
Dental Implants
Dental Implants
Replacing missing teeth with dental implants is a routine procedure in our practice.
Smile Design
Porcelain Veneers
Crowns
Bonding
Adult Orthodontics