Are you unhappy with your smile? Do you want to change your smile to give yourself a more appealing look?
Misaligned and malposition teeth can be straightened in a variety of ways.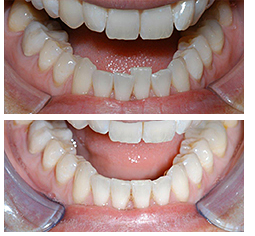 A recent survey revealed that:
Over 75% of people don't feel confident to smile in a photograph.
Over 45% of people make judgments about people by the look of their smile.
Over 75% of people think that a beautiful smile helps people psychologically.
Over 65% of people think that an attractive smile helps romantically.
We are very excited about our Adult Orthodontics service designed specifically for the adult patient (16 and older). The Adult Orthodontic treatment is a novel approach to adult cosmetic orthodontic treatment. Most adult patients want a great smile in a short period of time without the hassle of wearing braces for years. The goal of Adult Orthodontic treatment is to provide you with a great smile in a reasonable amount of time, usually in about six months.
InMan Orthodontic Aligner
One of the most exciting developments to come along in dentistry recently is The InMan Orthodontic Aligner. This device resembles an Orthodontic retainer, and it allows for the correction of misaligned anterior teeth in typically 12-16 weeks instead of years of conventional braces. This rapid result along with the fact that the Inman is removable for the patient has made it extremely popular in my office. I use it to correct both upper and lower front teeth alignment primarily for adults who have always wanted straighter teeth but declined braces or other orthodontic options. This is a great way to improve the cosmetic appearance of the teeth in a minimally invasive way.  When combined with tooth whitening procedures it make a dramatic difference in your smile.
I encourage my patients to do their own research online and decide if the Inman Aligner might be just what they have been looking for.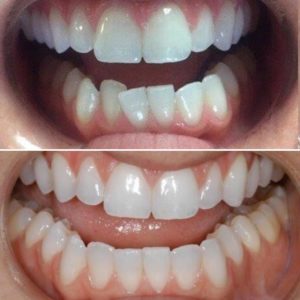 Why is orthodontic treatment crucial?
Beneficial in long-term dental health:
Properly aligned teeth are easier to maintain with proper oral hygiene.
Reduces the risk of tooth decay and gum disease.
Improves chewing and digestion:
Since people with bad bites chew less efficiently, it can, in severe cases, result in nutritional deficiencies.
Improves speech:
Misaligned upper and lower teeth can cause speaking difficulties.
Prevents premature wearing of tooth surfaces:
Since the teeth with stand a tremendous amount of force when one bites down, in the case of people with improper bites, the teeth are likely to wear out more quickly.
Improves oneís self-esteem and look:
A beautiful smile gives you the confidence to smile at any occasion, and socialize without holding back!
If you are ready to get the smile you have always wanted in a short amount of time and a reasonable cost, the first step is to call our office to set up a free consultation. Call us at 305.948.9102 to set up your complimentary consultation.
Frequently Asked Questions:
What Is Orthodontic Appliance Therapy?
Do you have minor crookedness or crowding of your front teeth? At Carroll Dentistry, we are pleased to offer removable orthodontic appliance therapy to quickly and effectively straighten your front teeth in a matter of weeks. Compared to traditional and invisible braces, the removable orthodontic appliance therapy is also more cost effective. Orthodontic appliances are used to address a variety of concerns such as correcting cross bites (over lapped teeth), crowded teeth, expanding under developed jaws, to open deep bites and to break oral habits such as thumb sucking. The Inman Aligner the most widely used orthodontic appliance to alleviate minor crowding of the front teeth.
How Does The Inman Aligner Work?
The Inman Aligner is a removable appliance used to move teeth over time. The Aligner relies on forces created by coiled springs that gently "push" and "pull" the front teeth into a nearly ideal position in a shorter period of time than braces.
What Are Some Advantages Of The Inman Aligner?
It is a faster, cost-effective alternative to traditional and invisible braces.
Only one appliance is required – no need to change every 2 weeks.
It can be easily removed to eat and clean your teeth.
Is Everyone A Candidate For The Inman Aligner?
No. The Inman Aligner is limited to movements of the upper and lower front teeth. For most patients with mildly crowded, tipped or rotated front teeth, it is a fast and effective solution that can have you smiling with confidence in a matter of weeks. It is not a treatment for the full arch (all your teeth) and may not be suitable for heavily crowded situations. For more complex cases Invisalign or braces are more appropriate.
How Long Does Treatment Take?
Treatment times for most cases generally range from six to sixteen weeks. Simple cases can complete in a little over 2 months and more complex cases might take 4 months or so. Naturally, more crowded front teeth will require more time. The speed of the results is highly dependent upon how long you wear the appliance each day. It is recommended that you wear your appliance for at least 20 hours a day, every day, until treatment is complete.
What Are The Appliances Made Of?
Orthodontic appliances are made of acrylic (the plastic piece which can be any color that you want), stainless steel wires and nickel titanium alloy springs.
Do I Need A Retainer After Appliance Therapy?
Yes. The good news is that many times the appliance that you used to move your teeth can be modified to be used as a retainer at the end of treatment. This cuts down on the extra retainer expense.
Use other dental aids as recommended by your dentist or dental hygienist: Interdental brushes, rubber tip stimulators, tongue cleaners, irrigation devices, fluoride, medicated rinses, etc., can all play a role in good dental home care.